How to install Asian Fonts on Ubuntu

Leave feedback
This page describes the installation of the Asian Fonts on Ubuntu 20.04 LTS using the apt-get utility. On the previous versions of Ubuntu, the process is quite the same.
To install Asian Fonts on Ubuntu, follow these steps:
Browse to packages.ubuntu.com.

At packages.ubuntu.com/focal/translations/, search for the Japanese language support packages. Find all entries starting with "language-pack-" and containing "Japanese" as follows: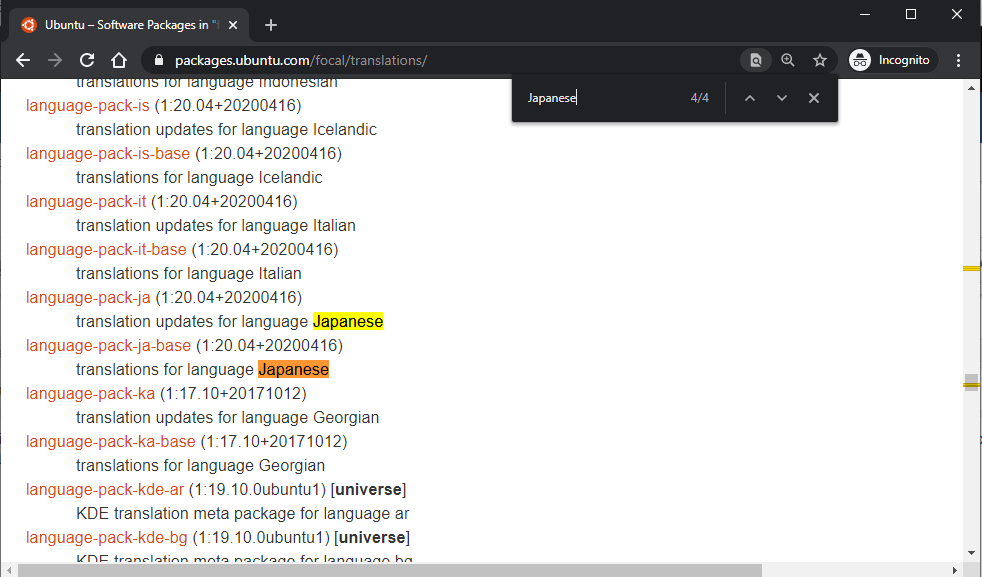 Install the language-pack-ja package. The language-pack-ja-base package is installed automatically as first one depends on it.

Run Ubuntu in a Docker container:

Execute the following command to update the packages list with updates and new packages:

Excecute the following command to install the Japanese language support:
apt-get install -y language-pack-ja


Wait for the message "Generation complete."

To install other Asian languages, use the following commands:
apt-get install -y language-pack-zh*


apt-get install -y language-pack-ko

Any additional feedback you'd like to share with us?
Please tell us how we can improve this page.
Thank you for your feedback!
We value your opinion. Your feedback will help us improve our documentation.